The Red Cabbage Cafe is easily reached by bus (Ruta # 3) on the "Remance" route, by car or taxi, you should also know it is a fantastic walk from centro Vallarta!
Go east on Calle Lazaro Cardenas past the Emiliano Zapata Market to the end of the street at the river where you turn right onto Calle Rivera del Rio. About two blocks further, just around the curve in the road you will see the brightly lit Red Cabbage Cafe!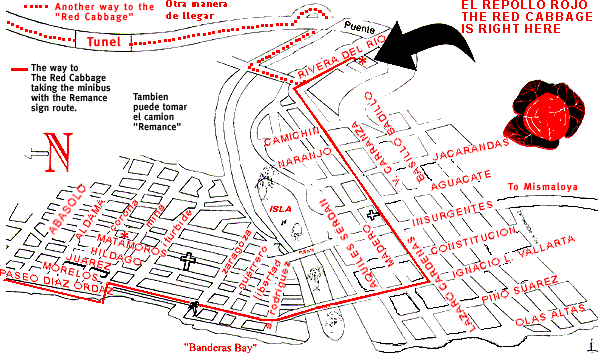 Kitchen Hours
5pm to 11pm Monday - Saturday





Closed on Sunday
Red Cabbage Cafe * Calle Rivera del Rio 204A * Colonia: Remance, Puerto Vallarta, Jalisco * Phone: 322-223-0411
We will be closing for the summer on July 1st.
Opening again on October 1st
No reservations required through June 30th!