APPETIZERS
Spinach Salad
Quote Baron Higby "Imitated but never duplicated unique to this Cafe."
Mixed Salad
Lettuce, cucumber, bell pepper, tomato, onion.
Black Bean Soup
Served with a plate of condiments, watch out for the little green peppers!
Lola's Sopa De Tortilla
Made with fresh tomatoes, served with avocado slice, cream and queso rancho.
Queso Rebecca
Panela cheese slices, served in a chile de tenir sauce with handmade tortillas.
Guacamole
Small Large
Quesadillas Bravo
No cheese - made with zucchini flowers and chile serrano - very picante!
Cream of Peanut Soup
Peanuts, tomatoes, and cream.
Huitlacoche Quesadillas
Black corn fungus (truffle) in a savory mixture of onion and chili serrano. (picante). A new taste for many that is worth a try! A very special dish.
ENTREES
Chiles En Nogada
Originally created by the nuns of Puebla for the Emperor Iturbide. Beautiful as well as delicious. We serve it cold.
Chiles De Picadillo
Stuffed with ground meat, veggies & pine nuts, then smothered with a carrot sauce. Served at Frida & Diego's wedding.
Chiles Rellenos
Traditional stuffed with cheese, served with rice, beans, and handmade tortillas.
Maria De Carmen's (our chef) Mexican Plate
A little steak, rice, beans, quesadilla, chile relleno, guacamole, chips, salsa, handmade tortillas YYYYYYYYeeeesssssssss!
Erma's Steak Picado
Succulent chunks of filet mignon in a savory sauce served with mashed potatoes and a spicy salsa on the side.
Lomitos A La Naranja
Pork loin with orange sauce.
Carnitas En Salsa Verde
Pork in green sauce.
Albondigas Enchipotladas
Meatballs in chipotle sauce.
Pork Ribs Chipotle
Ribs a little different - spicy.
Chamorro
Roast pork shank - in a mild salsa chile ancho, served with mashed potatoes or rice and beans, and a salsa picante on the side.
Cochinita Pibil
A traditional Mayan pork dish, served with rice, beans, and fresh handmade tortillas. Be careful with the Habanero salsa!
Mole Poblano
Served over chicken breast. We make our mole from scratch. Served with rice, beans, and tortillas.
Mole Oaxaca
The black mole from the great Zapotec state. Served with rice, beans, and tortillas.
Pollo Pipian
With sesame, almond and caper sauce served over chicken breast. Served with rice, beans, and tortillas.
Pollo Chipotle
A spicy sauce served over chicken breast. Served with rice and beans. Local favorite.
Filet of Fish
Traditional garlic and butter.
Fish Veracruzano
Tomato, bell pepper, onions, olives, capers.
Shrimp Giovanni
Named for a mad Mexican-Italian cook! Flamed in tequila with garlic and barbeque sauce.
Shrimp Garlic & Butter
A Vallarta tradition.
INTERNATIONAL
The American Plate
Chicken breast, mashed potatoes, gravy, and cranberry sauce.
The Italian Plate
Pasta with tomatoes and garlic.
We cannot accept Credit Cards.
18% Service gratuity for groups of five or more.
IF YOU HAVE AN ALLERGY OR A FOOD SUBSTANCE YOU CANNOT EAT, PLEASE LET US KNOW BEFORE YOU ORDER.
The Red Cabbage uses only the BEST available ingredients. All of our beef dishes are made with filet mignon. All taxes are included in the price. Because we do not accept credit cards the Red Cabbage is able to maintain reasonable prices for you and for us. 18% Gratuity will be added on groups of five or more. The Red Cabbage will be closing on Sundays for this season.
BUEN PROVECHO!!!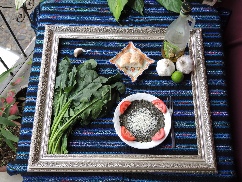 Kitchen Hours
5pm to 10pm Monday - Saturday





Closed on Sunday
Red Cabbage Cafe * Calle Rivera del Rio 204A * Colonia: Remance, Puerto Vallarta, Jalisco * Phone: 322-223-0411